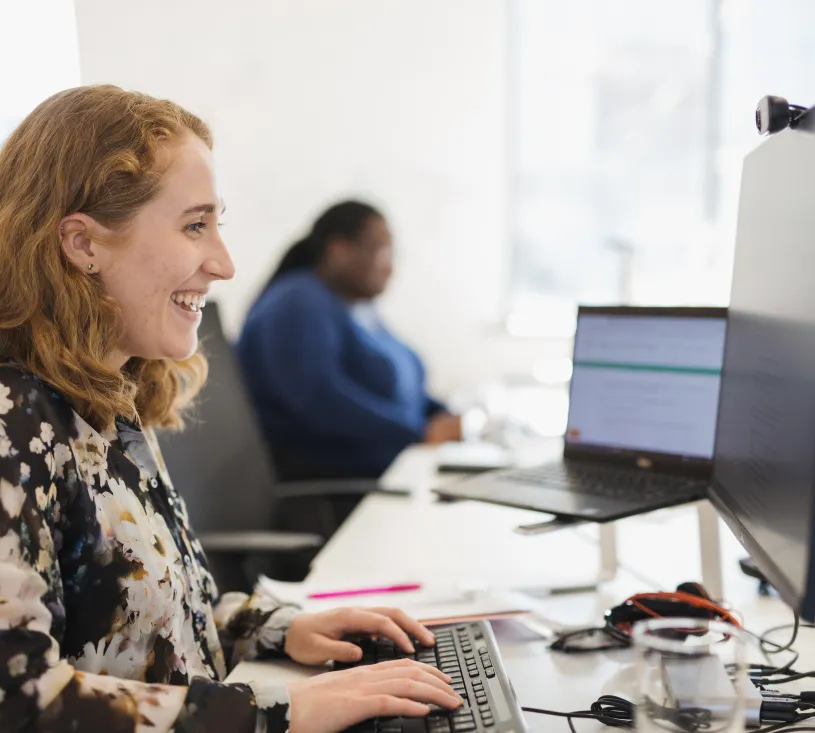 How to : make the most of your internship at Bright Network
13 June, 2022
Our Events Marketing Executive Hester joined us for a summer internship in 2021. Hester's internship was a huge success, so much so she was offered a permanent role in our Events team. One year on, we asked Hester for her reflections and top tips for future interns at Bright Network.
What advice would you have for someone about to start an internship at Bright Network?
Get to know everyone across the business. Whether this is joining in at socials to chat to people you don't normally work with or sitting with a range of people in the office so you can make a name for yourself across the business. It's a great opportunity to meet people from a range of career backgrounds, expand your professional network, and make friends!

Upskill wherever you can. Pick your team's brains about the work they do & the skills they have and try to get involved with everything so you can upskill and learn from experts. See if you can get involved with anything alongside your role that might help you round out your skillset and make you an even more valuable team member

Ask questions! Bright Network is a super transparent business where you can learn about all aspects of how it runs - from different team functions to finance and business performance. Being an intern here is a fantastic opportunity to learn about start-ups, scale-ups, and running a successful business. All you have to do is listen and ask! This will also help you get a sense of the wider business' work and goals by catching up with different teams and staying up to date with different teams' wins, challenges and OKRs
What was the highlight of your internship?
Our whole company offsite in Cambridge. This was a fantastic opportunity to meet everyone from across the business (including those from our Edinburgh office) and chat to new people who you don't normally work with. After some long months of lockdown, getting to see people face-to-face was a real treat!
What's your proudest moment from your internship?
Completing my first autumn flagships events season. This gave me a great sense of achievement as we hit the majority of our targets and I was able to try new approaches to our marketing on social media and email campaigns. I learnt so much about how to run an events marketing campaign end-to-end, as well as practical skills for delivering events online. It was so rewarding to see the impact of all of our work at the event and hear how much our members valued them
What did you learn during your internship?
How far initiative goes. Constantly using your initiative is one of the best ways to impress in your role and make yourself an asset to your team and the business. This applies externally - e.g. using your initiative to anticipate the needs of our members and clients. But it also applies internally - e.g. using your initiative to make yourself useful to the wider team, make small decisions in your role (this also demonstrates valuable leadership skills), or know when is the best time to ask questions 

Developing stakeholder management skills. Bright Network has a breadth of B2C and B2B work across the business, so my internship was a great opportunity to learn how to balance the wants and needs of both members and clients. Being able to develop stakeholder management skills early in my career was a really valuable lesson learnt in my internship that I use consistently in my role now and can take forward in my career too

Getting used to the regular tracking of key results and very data-led reporting. Bright Network is big on regularly tracking progress via metrics and staying up to date with how we can improve in our teams and as a whole business. Data-led decision making was not something I had much experience in, and tracking progress on a quarterly basis was not something I had experienced in previous roles or work experience. This was a really valued learning curve as it encouraged me to improve my data analysis skills, look for the value in numbers (something that didn't necessarily come naturally to me before as a strictly essay-based subject student since A-Levels!), and further motivated me to always look for innovations and improvements
Want to undertake an internship at Bright Network?