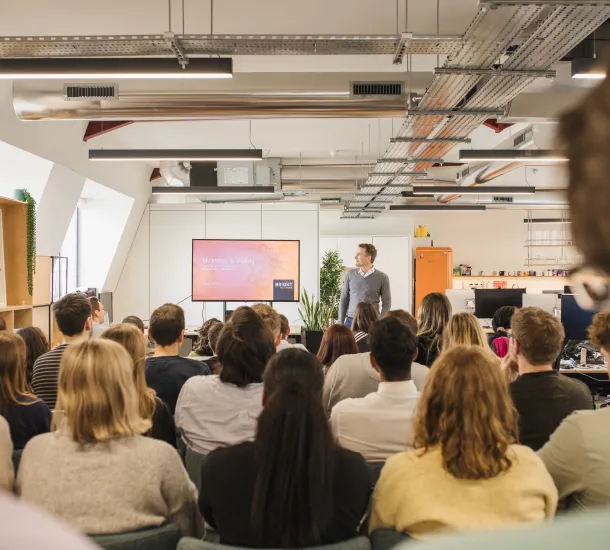 Our values are the guiding light behind our incredible & high performance culture!
Growth Mindset
Ensuring we become the very best versions of ourselves
You're capable of achieving remarkable things. You proactively seek out opportunities to push yourself knowing that there's no such thing as failure, you'll simply learn fast, dust yourself off and try again. You seek improvement not perfection, and embrace feedback from everyone around you.
Will to Win
Helping us consistently exceed expectations and always bounce back stronger
You always strive to exceed expectations and deliver the highest quality results for the business – our clients, our members and yourself. You bring focus, resilience & passion to the table, thinking commercially to draw on resources wisely to achieve incredible things.
Trusted to Deliver
Working collaboratively as an ego-free team
You're an ever-dependable team player who takes the time to listen, empathise and understand. You make business-led decisions, delivering outcomes you have committed to. You're honest in admitting to mistakes and asking for help when needed. You avoid politics and look for positive solutions to any challenge.
Life at Bright Network
Want the inside scoop on what life is really like at Bright Network? Check out all the behind the scenes content to hear from the team!
Ready to join us?
If you like what you see, or simply want to find out more, it's time to get in touch!

Our Diversity, Equity, Inclusion & Belonging Statement
Our aim is to create and maintain a work environment where everyone is heard and everyone feels they can belong. Hiring
We've established recruitment practices that help us ensure we always hire the best candidate for any role. Culture
Our culture helps to continually educate our team members on the views of others. Pay
Our policies & remuneration packages are built to treat everyone fairly, whilst accommodating for the diverse team we have. Change
We recognise no pledge to Diversity, Equity, Inclusion and Belonging will ever be complete so we're continually reviewing our practices.
"I'm genuinely inspired everyday by the people at Bright Network. Using first-class technology and a personal approach, we're changing the world of graduate careers for the better. It's an exciting journey to be on."
"There are many positives to working at Bright Network, two that stand out are; how sharp the team I'm surrounded by are! Second is the super collaborative culture which, in my eyes, is why Bright Network is able to build, deploy and adapt the most relevant and value driven solutions in the market!"
"Bright Network's core values really resonate with me and you truly see this in the work we do. The team is really passionate about important initiatives including DEIB and accessibility and I love working with such collaborative, intelligent and driven individuals every day. The direct impact that I see from meeting bright members at our events only motivates me towards our mission and is one of many reasons that I continue to enjoy working at Bright Network."
"It's so refreshing to work in an environment where we're trusted to experiment and innovate without unnecessary constraints or red tape, and this allows us to build great products for our customers. The team is supportive and empathetic, and everyone is aligned on achieving the same objectives and key results."
"At Bright Network, innovation is not just a buzzword; it's our way of life. We're fuelled by our agility - we listen and empathise, build, release and repeat until we achieve the metrics we want. Our customers are at the heart of everything we do and we're comfortable failing how ever many times we need to in order to achieve our ambitions. Join us in shaping the future, as part of a collaborative and dynamic team that is truly a pleasure to work in."
"Coming to work knowing that I'm surrounded by enthusiastic, dedicated people inspires me to produce my best work every day because I know I'm contributing to products that every member of my team, and every member of Bright Network, cares deeply about. I'm not scared to learn, take risks, and be bold because we work in a no-blame culture without strict hierarchy where everybody's opinion gets heard. It's nice to know that I can grow quickly and feel supported along the way."
"Working at Bright Network is such an adventure! I've been lucky enough to be presented with opportunities to challenge myself, expand my skill sets and dive into the unknown (whilst having direct social impact!). The opportunities for growth are endless and most of all FUN!"
Ready to join our team?