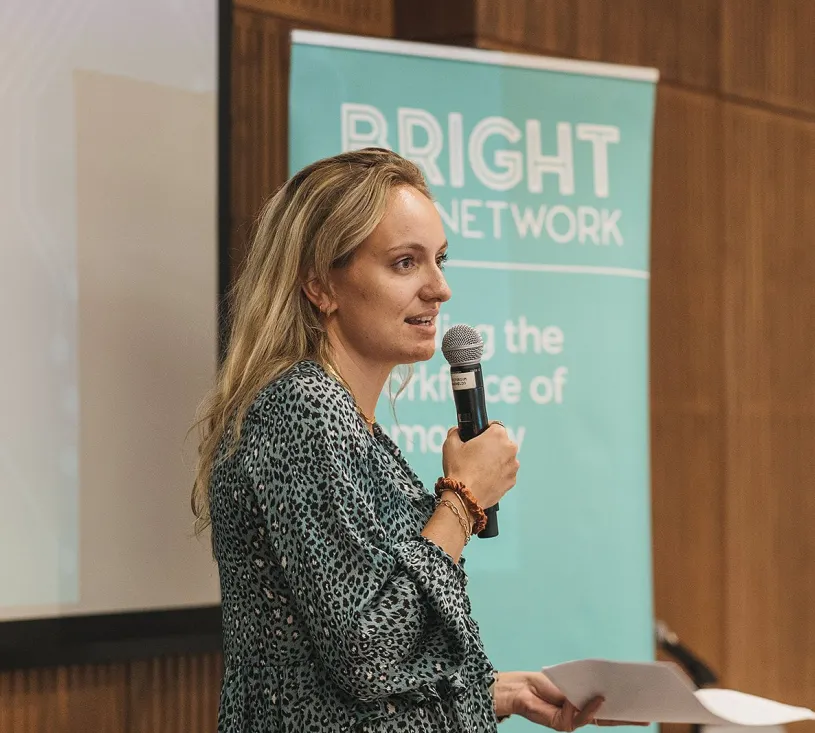 How I've grown with Bright Network Technology Academy
8 August, 2022
Founded in early 2021, Bright Network Technology Academy offers free comprehensive training in software engineering to ambitious and talented recent graduates who are new to the field. Upon graduating from the the course, our trainees begin an exciting new career with Bright Network as software engineering consultants who work on fantastic projects with our commercial partners.
Joining as a Business Operations Intern 18 months ago, Valeria Perticucci has seen the academy grow and develop, and as our Performance & Community Manager, plays an integral role in supporting our academy trainees after they finish their course and transition into their new professional life as consultants.
In this article, Valeria shares how she's grown and developed professionally, whilst helping bridge the UK digital skills gap!

Joining Bright Network Technology Academy
Having studied Biology and Psychology, I didn't really know how I wanted to apply the skills I'd attained during my degree. I did know, however, that I wanted to work in a people-centric company, and previous experiences had shown me the value of a fast-paced environment where I could work with people who want to just: Get. Things. Done.
When I found the opportunity to join the Technology Academy team, it felt like the perfect opportunity to hone in on not just on one skill, but to put my ability to navigate different contexts into practice across the entire business.

Kicking off the first cohort of trainees
Early 2021 saw the official launch of our academy and it was a fantastic learning experience, because everyone involved was doing this for the first time. We got a lot of things right, but we also made many mistakes and learnt so much whilst doing so.
The UK was still in lockdown when our first cohort of fifty trainees joined the intensive 12-week course, and so they were very focused! My role at that time was to understand what our trainees wanted, and how to make the course worthwhile for them. I was not just upskilling a group of talented young professionals in their technical skills, but also hosting demo days where they would present their work completely virtually; managing the wellbeing of all 50 people; and of course, getting feedback for the trainers who could then improve the way they were delivering the boot camp. I learnt an incredible amount and we kept iterating to make the whole programme better.
"Giving graduates a chance to grow and develop in an entirely new space has been so, so rewarding"
Learning from the first time
I thrived during my internship and was delighted to join the team on a permanent basis. I eventually started to lead on trainee recruitment, whilst also playing an important part in managing trainees as they progressed through the boot camp.
We started to understand where processes worked, and where they still needed improvement. As our operations got better, we developed more client relationships, meaning we could place even more trainees after they finished the boot camp. As the number of trainees finishing their course grew, I also began to host more events and focused on fostering that sense of community amongst boot camp graduates who were now beginning their careers as software engineering consultants with client partners.
Scaling up
By early 2022, we'd run four cohorts of trainees and placed over 50 consultants. My hard work had earnt me a promotion to the role of Performance & Community Manager, which is my current role. Now, I manage everything that happens with trainees after they finish the boot camp. Keeping our consultants engaged and happy - that's what we do! We want to keep upskilling them because their journey doesn't end at the boot camp graduation. They've just started their career and have so much learning to do. 
As we grow, and we have more and more consultants join the programme, it's vital to keep adapting, and reiterating our processes. Our clients are seeing how great our boot camp graduates are, and want more and more of them, and so our team grows as well.
Having exposure to the commercial side of the business has really opened my eyes to all the inner workings of larger companies, smaller companies, and all those in between. Wearing so many different hats is both thrilling and fascinating. One day I might be working one-on-one with a consultant on a problem they're having, and the next I'm presenting to 100 consultants at an event that I've helped to organise!
And what keeps me going? The team. Being able to say I'm proud of the work we're doing every day makes me incredibly proud to be part of the mission and I know this is only the start of my own journey with Bright Network Technology Academy!
Valeria and the rest of the team are working tirelessly to bridge the digital skills gap and give fantastic opportunities to recent graduates. And with ambitious growth plans for the academy over the next few years, we're always looking for talented individuals to join the team! 
Ready to join the Bright Network Technology Academy team?