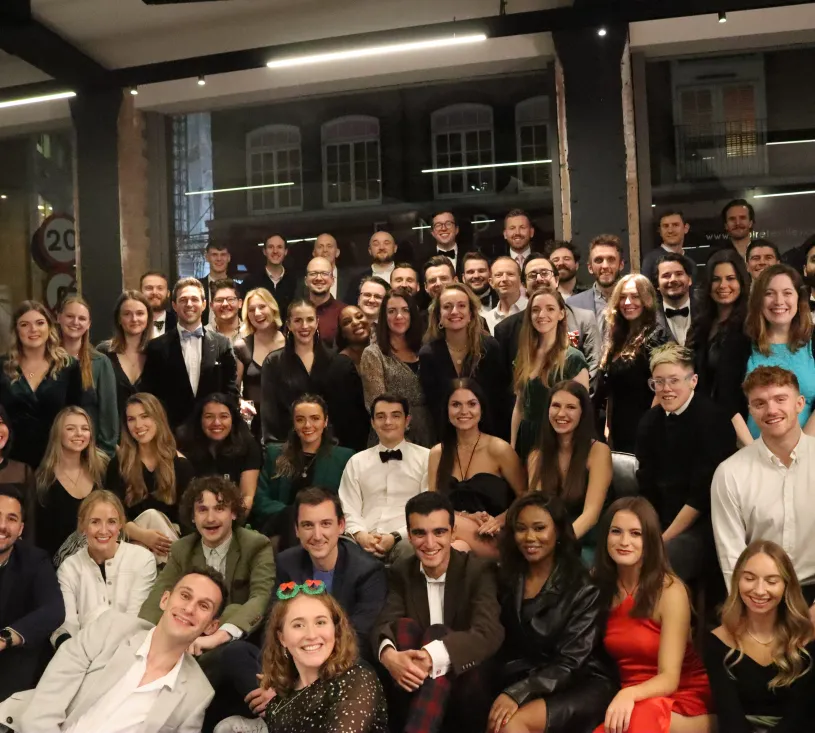 How we champion Diversity, Equity, Inclusion and Belonging at Bright Network
22 June, 2022
Diversity, Equity, Inclusion and Belonging is integral to us as an employer. It's at the heart of what we do for our members (40% of our members are from ethnic minorities, 58% are women, and 75% are state-educated), and it's at the heart of what we do for our team too.
For us, this means recognising, embracing and celebrating the diversity of voices within our business, and ensuring that everyone feels empowered to bring their most authentic self to work. Our aim is to create and maintain a work environment where everyone is heard and feels they belong.
We strive to run our recruitment processes with respect for all candidates, recognising and embracing diversity, whilst ensuring we hire based on competency, values and potential. We will not discriminate on the basis of gender, ethnicity, sexual orientation, socio-economic background, religion or ability status.
When you join us at Bright Network, you can expect a culture that will embrace you for who you are and what you bring to the team. Keep reading to see what we're already doing and what we're planning to do in the future, to champion Diversity, Equity, Inclusion and Belonging as an employer!
Hiring at Bright Network
We welcome applications from all candidates, regardless of gender, ethnicity, sexual orientation, cultural background or ability status, and will always hire the best candidate for the role. To ensure this happens, we pledge to: 
Ensure everyone conducting an interview at Bright Network has first completed our interview training course to ensure candidates are assessed objectively and without bias.

Ensure all job descriptions are audited to avoid the use of biased language.

Give new joiners the choice of an onboarding 'buddy' from a different team, who can be a point of contact for them and help them to feel integrated at Bright Network as quickly as possible.

Fulfil any reasonable and necessary adjustments and accommodations for candidates and new joiners with discretion and respect, to ensure they can thrive in the recruitment process, and when in role.

Gather feedback from candidates who apply for roles at Bright Network, to understand how to make our recruitment process more inclusive.

Regularly review our hiring processes and make changes wherever necessary.

Encourage applicants to submit demographic data so we can understand to what extent our hiring efforts are attracting diverse talent.
We're actively looking at how we can:
Take action to boost applications from underrepresented groups.

Upskill interviewers so they are aware of how to interact with candidates in an inclusive way.
Culture at Bright Network
To foster a culture of inclusivity and belonging at Bright Network, we pledge to:
Create flexible working opportunities for all staff, to accommodate for a diversity of preferred life and workstyles.

Celebrate a diverse variety of cultural events as a business, inviting team members to share their culture so we can continually educate ourselves and learn from each other.

Have monthly meetings with DEIB champions from a variety of backgrounds, who represent a diverse range of internal teams. 

Encourage team members to expense anything from our suggested reading lists to nurture their interest and understanding of DEIB-centric topics.

Dedicate at least one Lunch & Learn per quarter to championing the voices of underrepresented demographics. (Some previous examples of this include 'LGBTQ+ Voices of Bright Network', 'Understanding Neurodivergence' and 'The Role of Race in Identity')

Encourage all employees to use their monthly wellbeing allowance on self-directed DEIB learning (e.g. with LinkedIn Learning, or a similar provider)

Gather feedback from employees on our DEIB initiatives during our regular People surveys, and take action to improve inclusion wherever necessary.

Offer weekly 'drop-in' sessions, where any issues can be discussed in confidence with our People team.

Schedule regular 'Ask us anything' sessions for employees to speak directly to senior team members about anything they want.

Ensure we are offering regular social initiatives that don't revolve around the consumption of alcohol.
We're actively looking at how we can:
Build a bank of training resources available for all team members to tap into whenever they need.

Incorporate DEIB training into our longer-term learning & development strategies.
Remuneration & Benefits at Bright Network
To ensure all employees are remunerated fairly, and that our benefits package caters for all, we pledge to:
Carry out external benchmarking on an annual basis (at least) to inform our salaries & benefits package, ensuring we pay everyone competitively and fairly. This was last done in March 2023 as part of our annual pay review cycle, and will be carried out again in early 2024.

Offer promotions & pay rises based on performance against objective metrics through a moderated panel to avoid any bias & ensure equity across team members.

Offer private healthcare and enhanced parental leave that

doesn't discriminate by gender/parental situation (e.g. adoption/birth)

, allowing all employees to feel secure and work effectively.

Provide a flexible wellbeing budget for all employees to spend on what they need to boost their health and happiness.

Provide the necessary equipment for every team member to work from home effectively whenever they need to.
We know that no pledge to Diversity, Equity, Inclusion and Belonging will ever be complete or perfect. As a result, we are continually reviewing our processes to ensure we are doing as much as possible to champion DEIB at Bright Network. 
If you have any feedback for us, we encourage you get in touch at hello@brightnetwork.co.uk.
We review and revise this statement every quarter to ensure it is an accurate and up-to-date reflection of our current DEIB initiatives. This statement was last updated: October 11th, 2023
Want to join the Bright Network team?